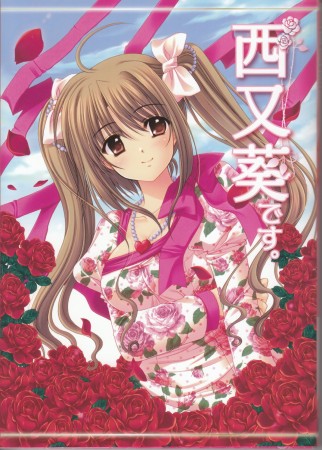 This little book arrived today.  It's by the popular illustrator Nishimata Aoi of Shuffle! fame.  She works at the company Navel which makes eroge (I wonder why female illustrators do this…).  In fact, she worked along side another famous illustrator, Hiro Suzuhira, who is a long-time friend of Nishimata-san's.  If you've seen their work along side the other's, you may notice a similarity in style.  That's not a bad thing though, as they both have a knack for drawing very moe characters :)
So, what's this book about?  Well, it has some nice illustrations but it's really more focused around a collection of essays by Nishimata.  The book is about herself (hence the title),  her childhood, her work, etc.  It has about 20 illustrations, some taking up 2 pages.  The whole book is 130 pages long with essays, her illustrations, and some pictures of herself (and cat sometimes).
I mostly ordered this book to find out how much BK1 charges for a single book shipped via SAL and how long it takes to arrive in Indiana.  It turns out it's pretty cheap and takes about 2.5 weeks.  Much cheaper than Amazon's shipping though no where near as quick.
Some sample images: